Take a look at what we have to offer...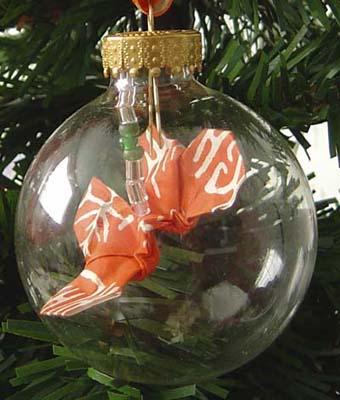 Glass ornaments come in a 60mm and 80mm size. The origami that can be placed in the ornaments include cranes, butterflies, ducks, crabs, dinosaurs, and sailboats (80mm only). Each ornament comes with a handfolded origami box in a color complimenting the ornament. These ornaments range in price from $12 to $15 depending on the size of the glass ball and the complexity of the ornament inside. Shipping for ornaments is usually $5 to most places in the continental United States. Price per item may be reduced for larger orders. Please contact us for details
Click on a photo to enlarge
Orange Butterfly
in Glass Ball
Red Butterfly
in Glass Ball
Two Cranes in
a Glass Ball
Pink Crane
in Glass Ball
Yellow Crane
in Glass Ball
Please note that due to the handmade nature of origami paper and these products; photos are posted as examples only. We have a large stock of colors, patterns, ribbons, and ornament sizes available; please contact us for more information or to place an order.